DK-Opti Storage Cart for warehousing
Mobile storage carts that enable optimization of product handling to Save Time and Money
New and more efficient processes are rapidly being developed for getting products right to the retailers' door. Very little is being done, however, about the increasingly outdated processes for delivering products to the shelves, what is called « the final 100 meters. » It is always a big challenge to handle inventory once it is in the warehouse, to find the right items in their boxes and to stock shelves, due to misadapted carts.
This is no small concern, because navigating that last 100 meters can absorb more than 10% of employees' time. Receipt, placement, labeling and finishing merchandise can create significant obstacles to efficient inventory control and management. What's more, anything less than optimal efficiency when stocking shelves has a negative impact on product rotation, and that affects sales.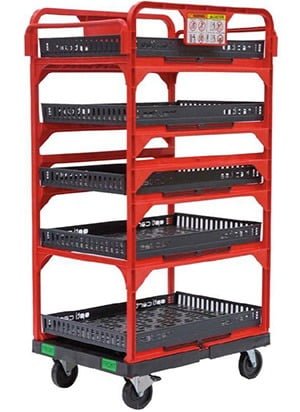 DK-OPTICART : A Mobile Storage Cart Specifically Designed for Single Unit Products
Inspired by the concept of One-Stop Maintenance, a system using mobile storage carts to stock warehouse shelves zone by zone, the DK-OPTICART offers an integrated solution for warehousing products and stocking shelves.
This logistic cart is used to stock products immediately upon reception, effectively replacing typical warehouse shelves. This frees up more warehouse space and enables easier inventory management. To restock store shelves, DK-OPTICART moves with the products according to their zone, greatly optimizing the stocking process. This approach eases and greatly increases the frequency with which shelves can be stocked. DK-OPTICART saves time, increases productivity, and improves the efficiency of inventory management, making it a profitable investment in just a few short months.
Mobile Storage System
DK-OPTICART enables work to be performed in a shelf facing manner, that is, products are placed on the mobile storage vehicle just as they are placed in the shelf's planogram. With its pivoting wheels, DK-OPTICART can be maneuvered with equal ease through warehouse and store aisles.
Better Visibility and Efficiency
DK-OPTICART is open on all four sides, making it easy to see all products on the vehicle. In the warehouse, employees can easily find and retrieve the right storage cart to restock a section, saving time.
Shelf storage cart with great configuration flexibility
With five detachable drawers and a sturdy polyethylene frame, DK-OPTICART is light, quiet and easy to move, and can carry up to 500 kg. DK-OPTICART has many components for dividing shelves, drawers and trays, allowing for easier management of all kinds of products.
Rapid Return On Investment
Saving time and increasing sales are top priorities for any retail business. DK-OPTICART completely transforms the process of warehouse management and handling of single unit products. According to a study conducted by Deloitte Consulting, concrete benefits and return on investment can be obtained in just a few months.
To find out how the DK-OPTI cart can help your buisness